Dusit Partners Changzhou Qiao Yu Group
Dusit Partners Changzhou Qiao Yu Group for China Expansion
Dusit International has partnered Changzhou-based real estate and hotel developer, Changzhou Qiao Yu Group, in a joint venture agreement that will see the company add a further 10 hotels in China to its growing portfolio of nearly 30 hotels, resorts and residences.
In addition to the two major shareholders, Dusit International and Qiao Yu Group, the joint venture also includes two individual partners, Mr Giovanni Angelini and Mr Harris Yang. Both are veteran senior executives of the hotel industry with a combined experience of 75 years.
The agreement is in line with Dusit's plan to further grow their brands in China,   with five hotel management agreements confirmed, five developments in the pipeline, and an additional number of hotel management agreements soon to be announced in Jiangsu and Guangdong provinces.
Led by Mr Chen Li Bin, Qiao Yu Group has grown from a manufacturing company supplying tourist and camping goods to a highly diversified group, with over a decade's   experience building and managing major real estate and hotel properties in China. Existing hotels operated by Qiao Yu Group include the Fudu Qingfeng Garden Hotel and Days Hotel and Suites Fudu.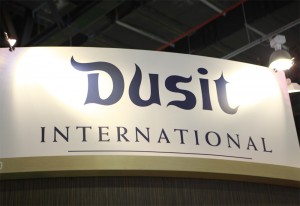 Future properties to be developed under this new joint venture agreement will include three more hotels in Changzhou, one in Qingdao and possibly one in Wuxi.
Cities targeted by the agreement over the next five to ten years include Shanghai, Kunming, Chengdu, Chongqing, and Hainan.
Currently, Dusit International has planned a presence in Hainan with its Dusit Thani and Dusit Devarana resort brands, slated to open soon. By 2020, over 5,000 rooms will be under Dusit Fudu International Hotel management Company by way of this joint venture agreement.
"This is an extremely important milestone in our company's history," said Dusit   International Managing Director and CEO Mr Chanin Donavanik, "and we are honoured to partner with such an established and reputable company as Changzhou Qiao Yu Group to help realize our expansion plans in the PRC."
Source: www.asiatraveltips.com