Does Thailand really care about its cruise market?
They are retired, mostly Americans, Europeans and Australians. And they are mostly wealthy, travelling around the world in some of the most luxurious cruise ships that the industry has produced. But most of them feel disappointed by the quality of the facilities when arriving in Thailand. "Why do we have to be two hours away from Bangkok. Four hours each day to go and come back in an ageing bus with broken air condition. This is not acceptable", fulminates an American passenger who has done many cruises around the globe.
"Charming to disembark under the heat, surrounded by containers ! There is even not a proper terminal to welcome us. And I will not mention the "shopping facilities" with outlets under canopies selling cheap goodies and even not Thai silk", adds an irritated American lady, also an experienced cruise traveller. "I have been travelling a lot in Japan and in each Japanese port, there is a small band or students in traditional outfits greeting cruise passengers. This gives an everlasting memory to us. Nothing of the sort in Thailand", tells another cruise passenger.
Facilities at Laem Chabang Port or Phuket Port can effectively be described at best as sub-standards. Most of the ships continue to arrive in container ports with no proper facilities. Phuket town is only 15 minutes from the port. While in other areas, it is possible to arrange free shuttle busses for cruise guests, Phuket taxis' union managed to block such a service to be sure that they can overcharge tourists…  Although large ships are not able to sail up to Bangkok on the Chao Praya River, Thailand's capital is only 35 to 40 km away from the seashore. Nothing would have so far blocked the Thai government to develop a deep-sea port dedicated to cruise ships.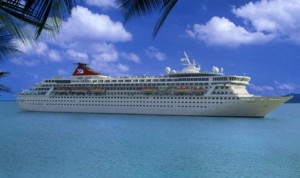 The situation is even more incomprehensible as the ASEAN (Association of South East Asian Nations) endorsed a couple of years ago a strategic plan focusing on cruise tourism, recognized as a high value-priority niche market. A cruise terminal has consequently been inaugurated last year in Singapore while Vietnam hastily launched the modernization of its cruise facilities in three major locations (Halong Bay, Danang and Ho Chi Minh City). Even tiny Cambodia is looking now to build a proper cruise terminal in Kampot, near the seaside resort of Sihanoukville…
Like in many other industrial sectors in Thailand, cruise handling seems to have been given to a single company which operates facilities and services according to its own standards without taking into consideration the well-being of cruise passengers. A situation that Thailand's Ministry of Tourism as well as the Tourism Authority of Thailand should better watch out and try to fix rapidly.
Luxury cruisers bring indeed the type of passenger that Thailand can only dream of: well educated, wealthy and able to leave a lot of money into the country. Two hours to commute to Bangkok is equivalent to two hours less in glitzy shopping malls, luxurious spas or fancy restaurants. Some of the passengers on the ship already promised not to come back on a cruise to Thailand. And probably spread the word to others.
Source: www.traveldailynews.asia