Tourism Authority of Thailand Expecting Record Songkran Holiday Period
The Tourism Authority of Thailand (TAT) is projecting that this year's Songkran festival holiday will generate 2.7 million domestic and foreign visitors, with estimated expenditures of 11.1 billion baht, up 10% and 20% respectively over the numbers recorded during the 2012 Songkran holiday.
Also known as the Thai New Year, the Songkran holiday period will be celebrated between 12-16 April 2013.
TAT says its expects the number of domestic travellers to be around 2,034,000, with expenditures of 4,450 million Baht, and 678,000 foreign visitors, with expenditures of 6,675 million Baht.
While the average spend of the domestic Thai traveller, especially during the Songkran period, is understandably much lower than that of foreign tourists – they tend to travel by road, and do not need hotels etc. – it is unclear how TAT calculates the domestic traveller numbers, nor their expenditure.
TAT research also shows that hotel occupancies in major tourist destinations such as Chiang Mai, Phuket, Hat Yai, Pattaya are at over 70%.
A total of 177 charter flights (about 31,973 seats) are scheduled to arrive from major markets such as China and Russia during the Songkran festival.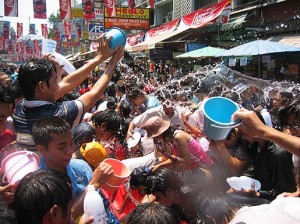 Domestically, thousands of Thais leave Bangkok to return for family visits in their provincial hometowns, or to participate in festivals being held in provinces around the country.
The projected visitor arrivals this month are expected to go a long way towards helping meet the TAT's visitor arrival target of 24.09 million in 2013. So far, the trend is good. In January-February, visitor arrivals to Thailand totalled 4.56 million, up 18.8% over the same period last year. During 1- 27 March 2013, international visitor arrivals just at Bangkok's Suvarnabhumi International Airport totalled 1,230,296 up 11.93 % over the same period of 2012
"Songkran is a time of renewal, rest, recreation, release, and bonding with families who sometimes see each other only during this time of year. If there is any time of year to visit, enjoy, and learn about Thailand, Songkran is it. There is nothing anywhere quite like it, and you're unlikely to forget your Thai New Year experiences anytime soon," said TAT Governor, Suraphon Svetasreni. "TAT truly hopes that all tourists coming during this special time of year will have the opportunity to participate in all of these colourful and joyful events taking place throughout the Kingdom. It is a wonderful time of year to experience the fun-loving yet traditional nature of Thailand and her people."
Source: http://www.asiatraveltips.com/