Thailand Records 22.3 Million Visitor Arrivals
Thailand achieved record-breaking visitor arrival numbers in 2012, crossing the 22 million mark for the first ever time.
Figures tabulated by the Ministry of Tourism and Sports for January — December 2012 show total arrivals by nationality of 22,303,065, up 15.98% over 2011, a year that was   seriously impacted by the major floods to the north of Bangkok.
Commenting on the performance, TAT Governor Suraphon Svetasreni said, "We are overjoyed to have achieved this   result in the year the people of Thailand commemorated the 85th birthday of His Majesty the King. It is also a tribute to the cooperation and creativity of the entire Thai travel and tourism   industry for the huge effort that has been made to ensure that travel   and tourism remains a leading industry for job creation,   distribution of income nationwide and contribution to culture, heritage and environmental preservation."
The governor said that the primary contributor to this result was the   prevalence of global, regional and local peace and stability. "Last year, the world was generally at peace and there were no major geopolitical, economic, environmental or natural disasters and no health pandemics. Travel and tourism can only flourish worldwide if the underlying conditions that support it remain free of disturbance and disruption. That is one of the most important lessons for the entire industry to learn worldwide," he said.
The highlight of the results was the fact that six countries, five of which are within the Asia Pacific region, are now producing more than one million annual visitor arrivals. These are Malaysia, China, Japan, Korea, India and Russia.
The following performance analysis by market is based on the figures tabulated so far:
Visitors from East Asia totalled 12,502,194 (+20.84%), Europe 5,617,817 (+10.12%), the   Americas 1,080,148 (+13.40%), South Asia 1,289,641 (+11.36%), Oceania 1,046,753 (+12.13%), Middle East 604,659 (+0.58%) and Africa 161,853 (+17.36%).
East Asian visitor arrivals to Thailand comprise the biggest market share of all visitors. Of the 22.30 million arrivals in 2012, a total of 12.50 million (+20.84%) were from East Asia regions.
By this year, two source-markets, China (2.7 million) and Malaysia (2.5 million) are now generating more than two million annual arrivals each. And two source-markets, Japan (1.3 million) and Korea (1.1 million) are generating more than one million arrivals each.
The ASEAN countries in total are generating over six million arrivals, with spectacular growth by Cambodia (+59.74%), Vietnam (+24.36%), Indonesia (+21.02%), Myanmar (+17.40%) and Laos (+6.63%).
European visitors showed a good growth rate of 10.12% to 5.61 million. Russia is the largest source market from Europe with arrivals of 1,317,387, up 24.97%. United Kingdom is the second highest source market with a total of 870,164, up 2.98%, followed by Germany 681,566, up 10.08%.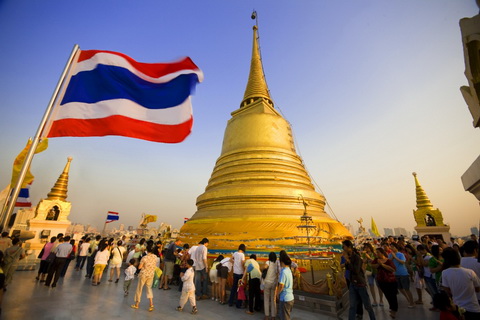 Arrivals from the Americas showed a good growth of 13.40% to 1,080,148 the main market, US, increased by 12.57% to 767,420. Arrivals from both Canada and Brazil showed positive growth of 12.18% and 22.18%.
Arrivals from South Asia grew by a strong 11.36% to 1,289,641. India has become a top of the list from South Asian market with arrivals up by 11.03% to 1,015,865, making it the region's fastest growing market, followed by Sri Lanka 73,338, (+36.73%).
Arrivals from Oceania grew by 12.13% to 1,046,753 visitors. Australian visitors were up 12.14% to 930,599 and New Zealand +12.28% to 113,509.
Arrivals from the Middle East showed a slight growth of 0.58% to 604,659 with all markets up. Israel is the largest source market with arrivals of 129,184 (+3.27%) followed by UAE 113,174 (+4.20%) and Kuwait 64,536 (+15.68%).
Arrivals from Africa were up by 17.36% to 161,853. South Africa is a major market and has showed significant growth of 10.22% to 75,496.
In 2013, the TAT is confident that if the global, regional and local situation remains stable, this year will see Thailand receive 24.5 million arrivals, generating a projected tourism income of 1,149 billion baht.
Source: www.asiatraveltips.com