Nikko Bali expands and rebrands
The Nikko Bali Resort & Spa has undertaken a major renovation and expansion project, and will now be renamed the Grand Nikko Bali.
The 'Grand' rebranding, which will officially take place on 15 July 2013, is intended to reflect the property's new upscale facilities, which include 19 new luxury villas, a multi-purpose event space and a wedding gazebo.
The new luxury villas include 17 300m² one-bedroom villas, one 500m² two-bedroom villa, and one 700m² three-bedroom villa, all of which include private swimming pools, outdoor and indoor living areas, large bathrooms and butler service.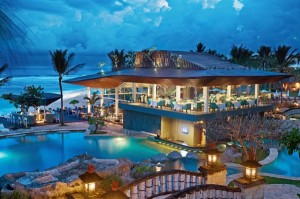 The new 1,100m² event facility, called MPF, can hold 1,000 people and has three adjoining break-out rooms, while the new wedding gazebo, Kamita, is located in the property's gardens and can hold up to 30 people.
The Grand Nikko Bali is operated by Japan's JAL Hotels.
Source: www.traveldailymedia.com