Hilton Continues Record Growth
With nearly 1,000 hotels and 170,000 rooms planned to open, Hilton Worldwide has the largest pipeline in the industry and in the group's history.
Hilton Worldwide continues to be the fastest growing global hospitality company by number of rooms.
In 2012, it opened 171 hotels with more than 28,000 rooms and has the largest pipeline in the industry and in its history, including nearly 1,000 hotels with nearly 170,000 rooms. It also has more than 85,000 rooms under construction, which is more than half of its total pipeline and more than any other hospitality company.
"In 2012, we achieved phenomenal success and further established ourselves as the preeminent hospitality company by adding to a long list of accomplishments from the last five years," said president and CEO, Hilton Worldwide, Christopher J. Nassetta. "We continued to find even more ways of providing the very best service to our guests around the world and benefiting the communities where we operate, including delivering thousands of new jobs as a result of our unprecedented growth."
Since 2007, Hilton Worldwide has increased its total amount of rooms by 32% and opened more than 1,100 hotels globally. It has also expanded from a presence of 77 to 90 countries and territories.
In 2012, Hilton Worldwide continued its rapid growth in each region of the world, and more than 60% of its pipeline and nearly 80% of its rooms under construction are now outside the United States. It has the largest pipeline of any hospitality company in the Americas, Europe and Middle East & Africa, and the most rooms under construction in Asia Pacific, Europe and Middle East & Africa. It also has the second largest pipeline in Asia Pacific, and the second most rooms under construction in the Americas.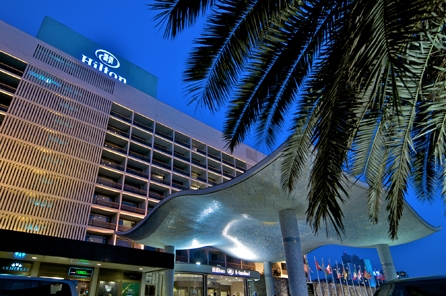 Additionally, Hilton Worldwide:
• Increased its pipeline in the Asia Pacific and Middle East & Africa regions, which are expected to double their supply in the coming years.
• Achieved the industry's largest pipeline in Europe with nearly 140 hotels and more than 25,000 rooms in the pipeline. One in five rooms under construction in Europe has a Hilton Worldwide brand.
• Expanded throughout the Americas, and continued as the largest hotel company in the U.S. with more than 3,400 hotels and 510,500 rooms currently open and more than 530 hotels and 66,000 rooms in the pipeline.
With regards to the various brands:
• DoubleTree by Hilton added 49 hotels to its brand portfolio and entered four new markets: Spain, Thailand, Croatia and Japan, opening its 300th hotel in Okinawa.
• Hilton Hotels & Resorts expanding its portfolio to 80 countries and territories as it entered Qatar, Peru and Lebanon.
• Embassy Suites Hotels maintained the largest pipeline among US upper upscale brands and opened three new Design Option III properties, a concept that allows its developers more flexibility.
• Hilton Garden Inn opened its 500th hotel in the Americas and entered new countries including Switzerland, Argentina and the Netherlands.
• Home2 Suites by Hilton continued its rapid growth with 13 hotels currently open and more than 70 properties in the pipeline, including its first properties in Canada and Mexico.
Source: www.hospitality-on.com