Four Seasons soars to new heights with hotel industry's first fully branded jet
The sky is literally the new limit as Four Seasons continues to reimagine luxury hospitality with the introduction of the Four Seasons Jet, the industry's first fully branded private jet experience.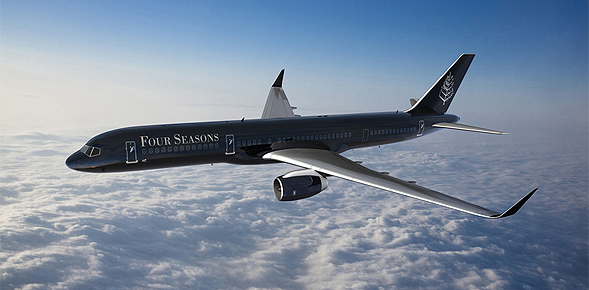 With Four Seasons on the fuselage and the iconic Four Seasons logo on the tail, the completely retrofitted Boeing 757 will feature interiors and exterior design customized by the company's team of design experts, setting the stage for a travel experience like no other.
Beginning in February 2015, the Four Seasons Jet will transport 52 guests on bespoke journeys, offering discerning travelers a distinctly Four Seasons travel experience from the moment they book their trip.
Four Seasons in-flight staff, including a dedicated on-board concierge, will coordinate with local Four Seasons concierges in each destination to ensure that the Four Seasons Private Jet Experience is nothing short of extraordinary.
"Taking our legendary service to the skies is a natural extension of what we've been doing in our hotels for more than 50 years," says Susan Helstab, Executive Vice President Marketing, Four Seasons Hotels and Resorts. "The Four Seasons Jet showcases the unforgettable people and experiences that make Four Seasons unique. It speaks to our pioneering spirit and the aspirations of today's modern luxury traveller in an imaginative new way."
An ambition to reimagine the future of luxury hospitality is what first inspired the company to create private jet journeys that focused exclusively on stays at Four Seasons properties worldwide in 2012. Now, with the debut of a fully branded Four Seasons Jet, guests can look forward to individually handcrafted leather flatbed seats, globally inspired cuisine and signature Four Seasons service – on board and on the ground.
Global in-flight Wi-Fi keeps guests and staff connected, so that spa treatments, tee times, private excursions and more can be arranged "on the fly" to augment each thoughtfully planned itinerary. Travelers will also have access to exclusive experiences available only to Four Seasons Jet passengers.
"The decision to offer one-of-a-kind trips aboard a custom-designed Four Seasons Jet reflects an understanding of our guests' evolving needs and preferences," continues Helstab. "It recognizes their desire to pair adventure and discovery with the luxury of a fully immersive Four Seasons experience."
Reservations aboard the new Four Seasons Jet are currently open for the following trips: Around the World, February 2015 – Beginning in Los Angeles and concluding with a celebratory dinner in London, this 24-day, 9-destination journey explores dynamic cities, exotic islands, architectural wonders and awe-inspiring natural environments. Highlighted by an only-by-private-jet stop at the Taj Mahal, all accommodations will be at Four Seasons hotels and resorts.
Each journey includes air travel and ground transportation, planned excursions, all meals throughout the trip and luxurious accommodations exclusively at Four Seasons.
Source: www.traveldailynews.com